Today has definitely been another interesting day. By right today I should be doing split shift which means that I work until 11.30am and I have the afternoon free to do whatever I want, but today since Stacy kept reminding me that I still have my Elementary Grammar lesson plan to do which consists of 3 units this week. I decided to stay back for the whole day to do my lesson plan. With that an interesting day began.


It began we went out for lunch with another friend of mine. After lunch... we were pondering on whether on should we go to Stacy's house and grab the electric kettle since the water supply in Cambridge has run dry. In the end, I was ranting I need coffee to keep me awake so we went to her house and grab the kettle (Thx Stac... saved me from falling asleep in the midst of doing my lesson plan...LOLX), so after the kettle I decided to repay her good deeds by giving her a packet of Nescafe 3-in-1.... lolx sound pathetic right?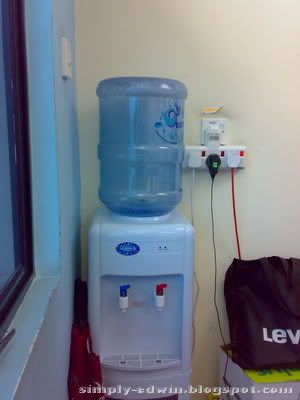 The empty huge bottle/tong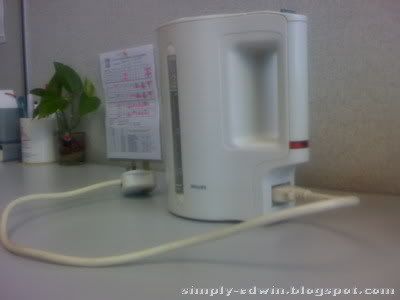 Saved by the Kettle
Anyway... the day began with us disturbing Odelia and this time Jason joined into the game... being bubbly Odelia, she was slow at catching us, When I smsed her she actually asked am I Angela or Edwin? Being naughty me, I replied her its Angela. After a while, she replied Jason saying that she is running out of credit... (Hmmph...did not even bother to reply me...*sad*). So I called her and disturbed her. Well we had nothing better to do.... and we called her when she was in the middle of her meal... lolx...


Me lil cactus....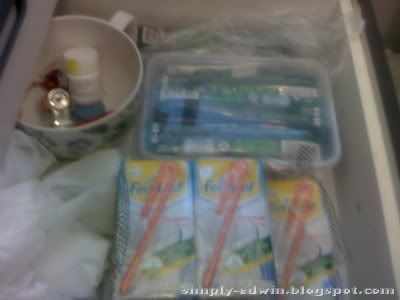 Our Beverage pantry...a.k.a My drawer also...
XD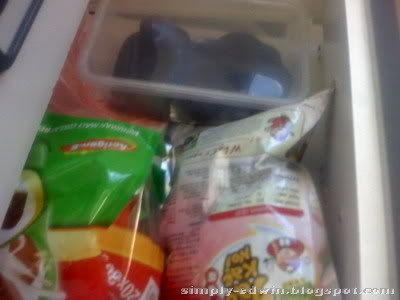 Our snack pantry... also my drawer
XD
Later on, the afternoon was filled laughters every now and then ... around 4pm... Stac left for her class, So I was left alone with Jason, he was busy marking some papers and I was busy preparing my lesson plan for the evening Elementary Grammar class that I was going to teach. Thank goodness I was able to finish it on time. Around 5.30 Stac came back into the room... she was waiting for me to have dinner. I guess she was bored... so she started to pick on things on my table and she took my ruler and I had this sticker with my name on it. Printed on the sticker is " I Belong to... Edwin Lau". Typical Stacy who was prone to WRONG STATEMENT read the words aloud (Imagine that)...

Stacy: I BELONG TO EDWIN LAU....
Jason: You What...
Me: Busy doing work....
Stacy: Oh Shit! NO....no... no...!!!!
Me: (Suddenly realise what she said)..OH SHIT!!! Stacy!!!THAT IS SO WRONG!
Stacy: Arrghh...
Jason: *Laughing*...Oh...since when you guys started...

*and out goes Jason telling it to Anna and inside Stacy and Edwin was "Crying"...

Me: You so ruined my reputation now...
Stacy: I want to resign liao... I go write resignation letter....
Me: I think... I should be the one lar... coz all the WRONG STATEMENT falls onto me... sniffs...
Stacy: *Laughs* Sorrry.... but I can't help it.

Lesson learnt: Be careful of what you said when you are working in a English Language Centre, especially Cambridge...

But without Stacy's wrong statement... it won't be that funny at all... LOLX...

I enjoyed my class tonight. My students are all good tonight and very cooperative and most importantly they are willing to learn. Stacy, sorry to hear about your EC class, if you really can't take it, I think you can bring the matter up to the head.

Stacy and I will be looking forward to Odelia's presence tomorrow...huhu... we are gonna have some more laughters tomorrow. Can't wait to see Miss Angela on Thurs too! with her it will be a complete set of four stooges with a lot more laughters.

Never know when is Stacy is going to come up with the wrong statement again... wakaka.. but please don't fall on me again...

◙◙◙◙◙◙◙◙◙◙◙◙◙◙◙◙◙◙◙◙◙◙◙◙◙◙◙◙◙◙◙◙◙◙◙◙◙◙◙◙◙◙◙◙◙◙◙◙◙◙◙◙◙◙◙◙◙◙◙◙◙◙◙◙◙◙◙◙◙◙◙◙◙◙◙◙◙◙◙◙◙◙◙◙◙◙◙◙◙◙◙◙◙◙◙◙◙◙◙◙◙◙◙◙◙◙◙◙◙◙◙◙◙◙◙◙◙◙◙◙◙◙◙◙◙◙◙◙◙◙◙◙◙◙◙◙◙◙◙◙◙◙◙◙◙◙◙◙◙◙◙◙◙◙◙◙◙◙◙◙◙◙◙◙◙◙◙◙◙◙◙◙◙◙◙◙◙◙◙◙◙◙◙◙◙◙◙◙◙◙◙◙◙◙◙◙◙◙◙◙◙◙◙◙◙◙◙◙◙◙◙◙◙◙◙◙◙◙◙◙◙◙◙◙◙◙◙◙◙◙◙◙◙◙◙◙◙


Lame-O


....How could we turn a pear into a spear?
anyone can guess??

Answers out in the next post... hehe can put your answers in the comment area. Hiaks!