Wow... its already my 6th day working in Cambridge Language Centre! That was fast! Tomorrow marks my 1 full week working there! In this 1 week, I met some really cool people, from colleagues to becoming my crazy friends. Wild, laughters, lame jokes, wrong statements... that was what made us enjoyed each others companionship. These people are, Ever young Stacy...miss la la Angela and Ever jolly Odelia (OD)... haha. They are really fun and made the working environment lively and fun. Oh and thanks to Jason too who helped me a lot, Stacy and Odelia too!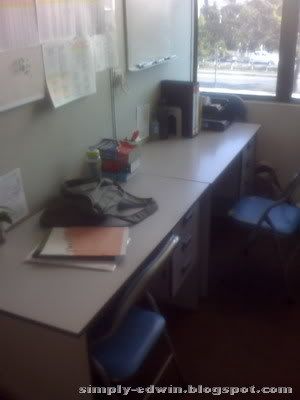 My table!! its the one right beside the window...with files.Next to my table is Jolly Odelia's table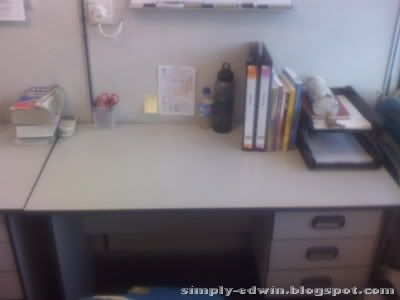 Me workplace...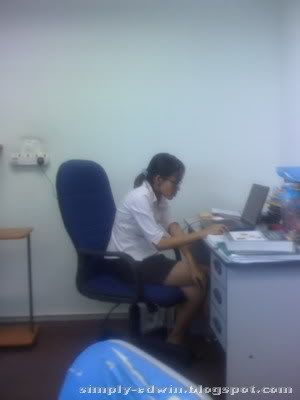 Candid photo... hu hu...

Stupidity part.........


D@mn! D@mn!...
Sighs tonight typical clumsy and blur me has done something silly, stupid and embarrassing again.... sighs.... Wanna guess what did I do again?

.
.
.
.
.
.
.
.
.
.
.
.
.
.
.
.
.
.
.
.
.
.
.
.
.
.
.
.
.
.
.
.
.
.
.
.
.
.

Oh Well... here goes... I was doing a conversation class today with my students. It was a pretty big class. In total I had like 25 students who attended the class. So we were back to the topic of sleep and dreams. It is such a boring topic *yawns* I mean seriously its a repetition and I do not know how to make the topic interesting. Being me, and understanding how would the students feel I decided to pick the best activity from the book and ask them to discuss it. So half way through the lesson this group of students under the "T" family decided to go out. They were this hooligan type of people, so I kind of ignored them for being late and going out half way through the lesson. When they came back I was in the middle of a conversation with my other students and helping them out through the conversation. In order to let them pass, I leaned back pushing the chair with me... to my shock! the legs of the chair bent! and I nearly fell down! WTF! I was so bloody embarrassed... Stupid lousy chair.... Grrr...... Sighs.... I am not that heavy...must be the chair is of cheap quality.... *bleh*

But... it was a fun place to work in. I have learnt so much there.... and its like I am growing up everyday. Seeing new things... meeting many different kind of people. Along the way, I met new people...new friends and my friends cum colleagues... I am so thankful to have you guys. Oh and thanks to Bryan too for employing me and giving me a chance to work here.

As August approach it will be the time I learn how to juggle my time well. Because I will have to study and work full time. Hopefully I can cope with it. I will try my best.

Oh well... that should be all...Peeps =D

◙◙◙◙◙◙◙◙◙◙◙◙◙◙◙◙◙◙◙◙◙◙◙◙◙◙◙◙◙◙◙◙◙◙◙◙◙◙◙◙◙◙◙◙◙◙◙◙◙◙◙◙◙◙◙◙◙◙◙◙◙◙◙◙◙◙◙◙◙◙◙◙◙◙◙◙◙◙◙◙◙◙◙◙◙◙◙◙◙◙◙◙◙◙◙◙◙◙◙◙◙◙◙◙◙◙◙◙◙◙◙◙◙◙◙◙◙◙◙◙◙◙◙◙◙◙◙◙◙◙◙◙◙◙◙◙◙◙◙◙◙◙◙◙◙◙◙◙◙◙◙◙◙◙◙◙◙◙◙◙◙◙◙◙◙◙◙◙◙◙◙◙◙◙◙◙◙◙◙◙◙◙◙
Small Tots...
I miss Florence JJ so much... I miss my old friends...how I wish I am back to those good old days...I really miss you guys heaps.
Darling Kelly JJ...hope you are having fun now in Thailand.... =D